Curriculum and Co-Curricular Activities
Curriculum
The School is affiliated to the Indian Council for secondary Education and also offers the National Institute for open Schooling to its pupils. Thus , the curriculum followed at these levels is a normal school curriculum which has been adapted to the children's needs. The program is subject-based and includes language and Literature, Mathematics, Social Studies, Commerce, Economics, Home Science and Computer Education.
Co-Curricular Activities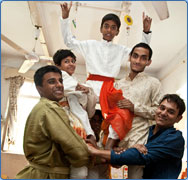 Co-curricular activities for all children include art and craft, physical training, games, dance, mime, computer and yoga- under qualified teachers. Mime has always been an integral part of the school's activities. From a small beginning in 1974- a concert for parents and friends- past and present? students of the school are now working under the guidance of their Artistic Director, Zarin Chowdhuri, and have formed a theatre group, The Action Players. They perform regularly in Kolkata and have taken their shows to other cities as well.
School Report for Year 2013-14
This is our Golden Jubilee Year.? Started with Opening Ceremony on 8th September 2013.? All children, parents, teachers and several well-wishers and donors attended.
This year's Annual Concert was extra special and the children performed "Tasher Desh" or "The Land of Cards".? This is Rabindra Tagore's most significant dance drama, a satire unveiling the mask of a strict society.? The dialogues were translated into English, the sounds were in Bengali while the children Mimed and Danced.
Grand Finale in August 2014 – Donations are welcome in the name of "The Society for Oral Education of the Deaf " and can ?be sent to our address 4B, Short Street, Kolkata 700 016
Students :
We welcome Sohail Salman, Fauzia Ahmed, Samrina Mansur, Manam Taba, Sk. Jaid, Zainub Khatoon and Md. Awaish to our School.
Sad to lose Sana consequent to her parents moving out of Kolkata.? We miss you Sana.
Rumi, Priya and Hena completed Class XII exams and we will be sorry to lose them though Hena has indicated her wish to help teachers in our School.
Governing Body :
Deeply regret to advise sad demise of our Founder Trustee and ?Hony. Treasurer of 49 years, Mr. Yezi Tata.? Great benefactor of school, constant source of encouragement and support to Governing Body.
Mr. D.D. Kothari, one of our senior most Governing Body Members took the place of Mr. Tata as Trustee.? Apart from being on the Governing Body, Mr. Kothari is a great benefactor of the School and father of? Kiran, one of our ex. Students.
Monsoon Fest :
A wonderful time had by all participating in games, lucky draw, food and sale of products prepared by children for the Monsoon Fest held in August 2013.
Outings :
Teachers, Jaya Mitra, Kinjal Shah and Jhooma Mahala took 9 of our senior children on an educational trip to Sikkim for 7 days.
Children's Day outing in the Maidan followed by games and snacks in the school.? Great day had by all.?
Children participated in an Art Competition conducted by West Bengal Association of the Deaf, Krishna Sonkar of Pre-Nursery won a prize.
Apart from our own celebrations, Sr. students were invited to Apeejay School to celebrate Children's Day.
Akshar School invited our children together with students of La Martiniere for Boys to perform a group dance and song for their Fest "Avsar 2013".
ERevMax invited our children to perform a dance and mime item for their Annual Day Function.
A short trip to Tollygunge Club courtesy our Governing Body Member, Mr. Cyrus Madan where senior children enjoyed getting close to horses in their stables and some of them enjoyed a short ride too.?
Earlier at the same venue, 8 boys and girls entertained members of Time & Talents Club on their Annual Day.? The Club had given us a handsome donation of Rs.11,000/-
Hearing aids :
IMF continue to be the main sponsor for hearing aids and FM Systems, by which the voice from the teacher to her students reaches through a transmitter without any outside sounds.